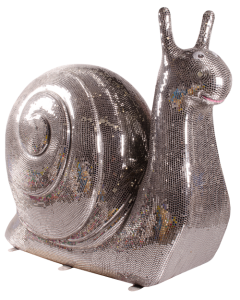 On 15th September, 50 giant Snails will slither onto the streets of Brighton & Hove to create an 18km public art trail.  Local charity, Martlets, have teamed up with Wild in Art to deliver the free public event.  Austin Rees are excited to be part of the 9 week trail as joint sponsors of Disco the Snail, who will be located outside Churchill Square.
The Snailspace campaign follows on from the hugely successful Snowdogs by the Sea, which raised £310,000 for Martlets and contributed over £10m to the local economy.
Martlets cares for people living through a terminal illness in the Brighton & Hove area.  The charity is much more than a hospice – they provide counselling, therapies, bereavement support and a team of nurses who offer respite for home carers.
Speaking about the campaign, Imelda Glackin, Martlets CEO, said, "The Snail sculpture resonates wonderfully with the work we do.  Our life-changing hospice care helps people do the things they love with the time they have left.  In this fast-paced city, it's often hard to remember to slow down and appreciate the things in life that make us smile".  The strikingly painted Snails and the campaign mantra of #BeMoreSnail will be a reminder to us all to stop and take a moment.
Disco is jointly sponsored by Austin Rees and RT Williams Insurance Brokers Ltd.  The artist, Natalie Guy, likes to put a bit of sparkle in every piece of artwork that she creates and Disco is no exception.  Taking 230 hours to create and using over 50,000 mirror tiles, Disco is a veritable glitterball – with antennae!
Visit Disco outside Churchill Square and enter our competition to win 4 tickets to 40 Years of Disco at the Brighton Centre.